public heat
public heat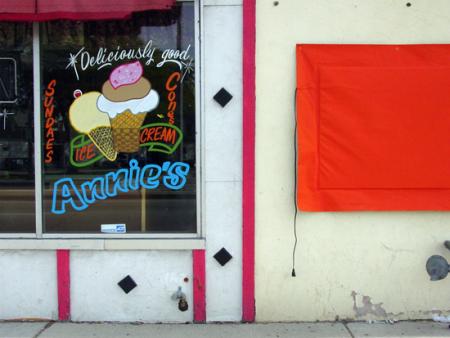 public heat is an installation that shows how public art can be a public service. by installing warm patches temporarily to the surface of a publicly accessible facade, a public heat source is created, where people can lean, snuggle and warm themselves up during the chilly months of fall and winter in milwaukee.
the installation shows how architectural surfaces can give more in terms of sensory and spatial experience. the warmth of the facade gives a direct haptic dimension to an exterior wall, and encourages people to come closer and exercise a direct, physical curiosity.
realized with a grant and volunteer support from in:site milwaukee, the project is installed on the facade of the sherman park community association (spca), 3526 w. fond du lac, milwaukee wisconsin, from september 2008 until march 2009.
working within a humble budget, we decided to use a readymade product, the powerblanket, to realize the installation. developed by greenheat technology in salt lake city utah, powerblanket is an industrial, low-wattage heating blanket used primarily on construction sites to keep the ground and building components above freezing temperature, and to help cure concrete.
the installation consists of three 3 x 5 foot powerblankets, laminated with the heat and weather resistant textile, trevira cs.
both greenheat technology and the textile producer cf weber sponsored the installation.
public heat is an installation that aims to challenge peoples' perceptions of architecture. hopefully, the curiosity that public heat provokes will make people see new possibilities in any and all architectural surfaces. through appealing directly to human senses and providing something to which, especially in ambient cold temperature, people are instinctively drawn, public hHeat shows one way in which public space, like enclosed spaces, can be tailored to the needs and comforts of the human body.
finally, public heat aims to be a social trigger. through creating a combined sensory and spatial surprise in a public venue, the installation should provoke social exchange, conversation and discussion.
we were fortunate to be given an opportunity to install public heat on fon du lac, a street in sherman park with a distinct social buzz. not a common or expected host for an architectural experiment, sherman park is nevertheless an ideal testing ground for public heat because of its lively sidewalk activity and extroverted mood.
Bookmark/Search this post with