Foamy Velour Suits Challenge Authority,
#38. Foamy Velour Suits Challenge Authority,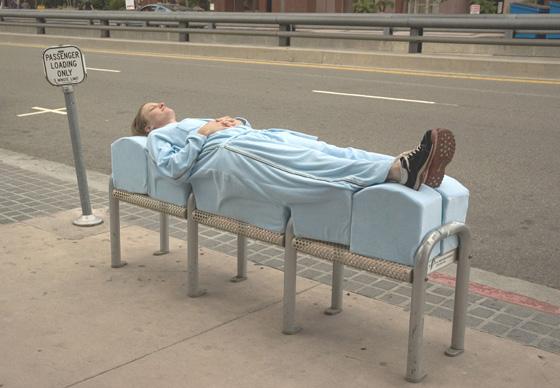 © Sarah Ross
The Archisuit project is four jogging suits matching four Los Angeles locations: a Hollywood public library, a Silver Lake fence, the Ronald Reagan State Building, and urban furniturees downtown. The suits' foam padding fills negative space in each structure and allows the wearer to fit comfortably into, or onto, urban elements designed to repulse them. Similar structures of denial are found in most cities, where they are placed to move people along and prevent unplanned inhabitation. "Testing Resistance" is a compilation of research for the Archisuit project documenting interactions between pedestrian structures and human bodies around Los Angeles. Sarah Ross is an artist who works with concepts of safety, health, and cleanliness as they are manifested in everyday spaces.
Bookmark/Search this post with