MetaboliCity
MetaboliCity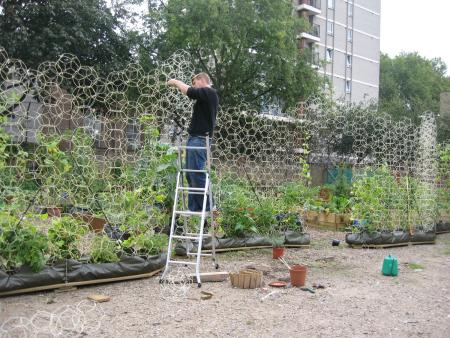 MetaboliCity is a vision of a city that metabolizes its resources and waste to supply its inhabitants with all the nourishment they need and more.
London based studio Loop.pH initially setup MetaboliCity as a design seeding process that included the participation of over 100 volunteers from eco-architects and hydroponic experts to chefs and residents of East London housing estates, working together to co-design a diverse portfolio of solutions for growing food in the city.
MetaboliCity became a network of small-scale, distributed growing experiments that each developed solutions to integrate both traditional and hi-tech agricultural techniques into the fabric of the built environment. Be it soilless, solar powered window farms, vertical green cladding that clings to facades or organically grown vegetables climbing up street lamps, innovative solutions emerged from multidisciplinary teams collaborating.
The studio believes design holds a potential to address some of today's most urgent societal and ecological problems by facilitating creative visioning, encouraging action and promoting energy independence, human nutrition, and a metabolic thinking – they are looking for more people who want to start experimental grow-labs.
Bookmark/Search this post with