Opportunistic Gardens
Opportunistic Gardens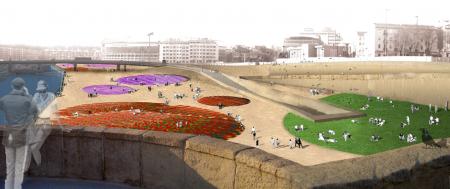 The underground relocation of Madrid's first ring-road, the M-30, in the 6-km stretch formerly occupied by the Manzanares River bed, has left a void greater than 150 Ha in the centre of the city. The works for that huge intervention were accomplished in May 2007. The project to rehabilitate its covering surface and the resources to do so would not be made available until 2009 for some small fragments, and 2010 for the rest of the area. During three years there would be in the centre of Madrid an enormous terrain vague, dusty and dry in the summer, dark and dangerous at night.
These opportunistic gardens will not only solve the environmental problems during this period but will profit from a once in a lifetime opportunity: to perform a landscaping action in a huge void, and in doing so not only be made useful and make environmental sense, but become a fantastic plastic event both for its size and surrealist nature. To achieve this we propose for this area a planting scheme following the geometry of conventional agricultural watering systems; progressively occupying the void with a fragmentary strategy, conditioned by the closing down of the tunnels and parallel land liberaton.
Three different diameters have been chosen, adjusting to standard watering techniques and to the particular site conditions. As for the plants six species have been chosen for their adaptation and fast growing capacity on a surface over the tunnel, without a layer of natural covering. Intense flower coloration and low maintenance and water requirements were also important.
The team MRIO Arquitectos + West8 Urban Design & Landscape Architecture are working on the project for the Manzanares Linear Park in Madrid occupying 120Ha as a result of the city's m-30 ring road burial.
Bookmark/Search this post with