Parking Meter Makes Park
#86. Parking Meter Makes Park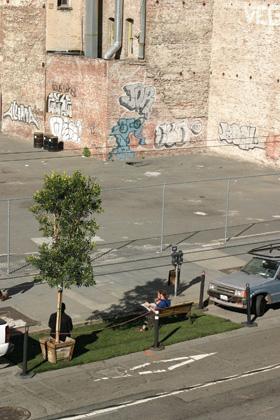 ©Rebar
A very short-term lease of a downtown parking space allows the autonomous creation of public space. PARK(ing) involved feeding a meter on San Franciso's Mission Street to rent precious urban real estate for installation of an aquarium, a public bed, a brothel, or nothing at all, to increase available space on a car-dominated street.
An Astroturf park was chosen and installed for two hours, providing an additional 2,230 square-metre-minutes of recreation space-time on a Wednesday afternoon.
is a collective based in San Francisco who works within the domains of environmental installation, urbanism, and absurdity. PARK(ing) Day now occurs once a year around the world, usually on 19 September.
Bookmark/Search this post with