the REAL estate
the REAL estate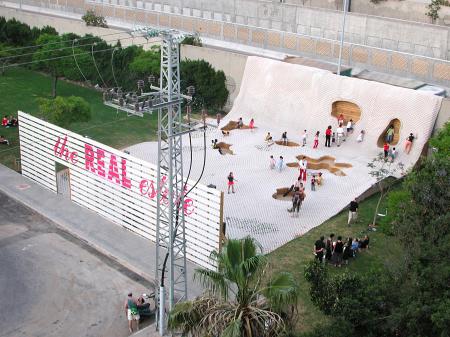 private spaces in the public realm
Edge conditions in urban cities often create neglected public spaces that attract temporal activities of various kinds for a wide spectrum of people.
"the REAL estate" project offers a new typology for public space that examines the boundaries between public and private domains in the urban landscape.
The site is located in the city of Bat-Yam, a Mediterranean city one of the most densely populated in Israel. Most of the residents live in modern housing projects that were built in the fifties for new immigrants.
The project is situated at the end of a wide modernist residential street that unexpectedly terminates by a massive concrete wall that functions as an acoustic barrier for a crossing highway. This edge condition is the caused for a long strip of neglected "junk" space which is used by the local residents for dumping trash, bonfire spots for Lag BaHomer (a Jewish holiday), drug activities, walking dogs and other illicit behavior.
We wanted to take advantage of the existing conditions of the barrier wall and the vacant land strip to create an unusual public park that allows intimate/private human activities to exist in the public domain.
The project's main façade to the residential street is a see-through wall with a wooden entry gate to an outdoor room lying between the existing barrier wall and the new wall. Both are at the same height but one is obstructive and the other is inviting. Bold pink neon sign written; "the REAL estate", suggesting that the real assets of dense urban cities are outdoor public spaces.
For the surface of the park, we laid a continuous fabric formed concrete "blanket" that wraps over the existing acoustic barrier wall. The continuous surface starts on a man-made horizontal landscape and changes gradually to a sloped vertical wall.
In this surface we curved seven cut-out wood niches that perform as intimate private spaces in the public urban landscape. Each niche takes the form of the human body as a single, couple or a group.
The project is collaboration between Avi Laiser, an architect with Dana Hirsch laiser, a performance artist. Dana has worked with teenagers form the local community center to create movement performances that will happen at the site. The focus of the work was to explore individual human behavior in the private domain and introduce it to the public domain. The performances created a dialogue with the unique qualities of the built project and presented to the visitors the free essence of feeling at home outside.
The project was presented as part of the Bat-Yam international Biennale of landscape urbanism 2008
Bookmark/Search this post with