The Red Line Tour
The Red Line Tour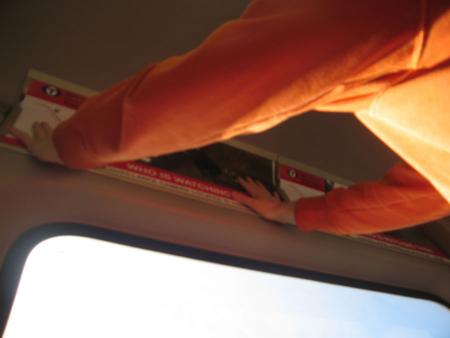 This Action was presented as the final project for the MIT VAP class 4.367/4.368 Studio Seminar in Public Art. The idea was to make a reflection about surveillance, voyeurism and the construction of fear in the contemporary city. The action was performed in the Red Line of the Boston MBTA subway transportation system.
American train stations host intense campaigns that remind citizens of potential threats every five minutes. Anything out of the ordinary can be considered a "suspicious activity". The slogan "If you see something, say something", discretely commands the citizen to look and report for danger.
The goal of THE RED LINE TOUR action was to infiltrate the advertisement space provided by stripes of posters in the train cars to promote a campaign of awareness about subway station surveillance. Surveillance is distributed unevenly across the train stations based on which sectors of the city are worth protecting. What does protection mean? Cameras have been changing into discrete shapes that camouflage with their surroundings. What do we know about surveillance cameras in the public space?
Citizens riding the train were exposed to a reflection about their transportation space in a place usually reserved for advertisement or governmental information. Pictures of surveillance cameras and their locations were accompanied by the question "who is watching them?". The question is immediately answered by it's own presence in the posters in the train cars. Somebody has clearly been watching them. Integration of the posters into the standard train car advertisement makes them camouflage with their surroundings the way surveillance cameras do, disrupting without agitation.
Bookmark/Search this post with