Density in Tokyo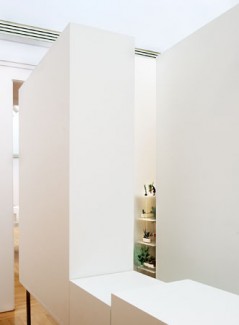 This exhibition model shows the Garden and House (2006) project in its urban context, engulfed by surrounding buildings.
Ryue Nishizawa describes the project:
"This building, in a high-density district near Tokyo Station, comprises both living and work space: the clients required an office, shared living space, and individual bedrooms. The 8 × 4-metre site is encompassed on three sides by buildings more than 30 metres high, making it much like a small dark valley surrounded by mountainous construction.
Since the site is very small, we wanted to avoid further reduction of the useable area that would result from using a standard structural system. Our concept involved creating a building without walls. The final composition uses only horizontal slabs, with each floor composed of a room and a garden.
The room on each of the four stories is smaller than the footprint of the house, allowing it to be shaped and given dimensions according to its particular function. For this reason, the relationship between garden and floor plate shifts appropriately as one ascends the light, well-ventilated residence that nestles into the dense urban fabric."
Photo by Michel Legendre © Canadian Centre for Architecture.