snow graffiti - ephemeral winter urban art -
snow graffiti - ephemeral winter urban art -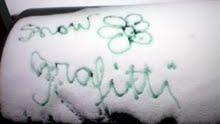 http://snowgrafitti.blogspot.com/
This is a temporary artwork - ephemeral art placed on streets in Edmonton.
For what?
particularize places, add color to the (empty-cold-white) city.
All this snow make the city very cold, very white.
Like white paper.
And white paper, for an artist, is the perfect place to draw..
In this way, the white snow in the streets, the empty white spaces becomes a kind of white canvas, white sheet of paper,
ready to be drawn.
And what kind of illustration? What we miss in the winter?
Colors, flowers...
Maybe, with the flowers, the few people in the street feel a little happy...
Maybe they like.
I like.
http://snowgrafitti.blogspot.com/
http://www.spaceandculture.org/?s=bouquet
Bouquet for Edmonton
Snow Graffitt
Marilei Fiorelli has created ephemeral winter art for Edmonton, which has had over a week of below -20C cold. Snow graffitti flowers make a bouquet for a frozen city. Check out her blog for more, before it melts! Let's make an annual tradition out of this – if one can have snow sculpture, and sand painting, why not snow painting? And, its interactive: snow graffiti with footsteps, snow angels…
Best of all, she asks readers what they would like to see -
more flowers (66%)
the word "deadmonton" (33%)
the word "cold" (16%)
the word"emptiness" (16%)
Social snow graffiti!
Marilei Fiorelli is an award winning Brazilian artist working in flash, mobile media and other forms – in Edmonton this month.
Bookmark/Search this post with