Thoughts on Museums Day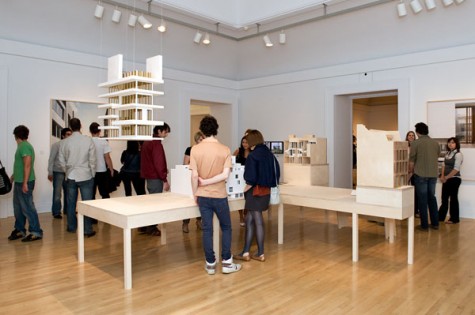 A large number of visitors came to see the Some Ideas exhibition during Montréal Museums Day last Sunday, 25 May.
Perhaps most notable was the sense of ease with which visitors engaged with the exhibition, according to their own experiences with London or Tokyo, or with Montréal itself. Some brought up important factors by questioning what it means to live intimately in a city. These reflections and questions created a common thread of dialogue about the different ways to conceive and to make one's place within the city today.
The public greatly appreciated Ryue Nishizawa's Moriyama House; its first floor plan often monopolising the attention of visitors as they tried to better understand the project. For the project House and Garden, the transparency of the house raised many questions about privacy and proximity within a city. Many were surprised by Nishizawa's projects and some said that they would be willing to experience such a house.
Stephen Taylor's projects were approached in a different but equally engaged manner. Individuals seemed to address the projects based on their own lived experience: drawing interest from the reinterpretation of historical typologies, the use of materials, and streetscapes that seemed familiar, regardless of whether they had been to London or not. Taylor's willingness to reinvent the city by questioning notions of privacy struck a chord with many, underscored by the attention given to the master plan of Rainham Village.
Photo by Michel Boulet © Canadian Centre for Architecture.