Some Ideas in Montréal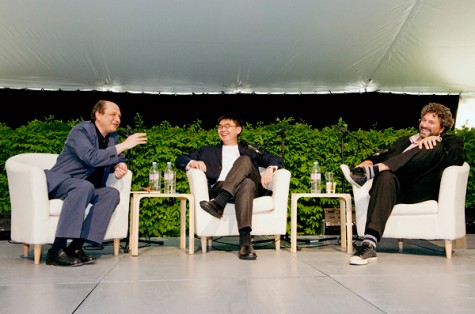 Greg Lynn, Yung Ho Chang, and Mirko Zardini in conversation during the CCA's second annual presentation of Urgency on 13 June 2008.
In her remarks during the opening of the exhibition in May, CCA Founding Director Phyllis Lambert discussed the relevance of bringing Tokyo and London to Montréal. Taylor and Nishizawa's projects are of course far from Montréal in geographic terms, and their respective cities vastly exceed our own in scale. Yet issues of community and of stewardship for the public realm are relevant everywhere. Phyllis expressed her concern about certain local developments and emphasized the importance of understanding the role and impact of a project in relation to the larger context of its neighbourhood.
Architecture, she concluded, is not just a building but the city in its entirety.
Similarly, during the recent Urgency event, Greg Lynn stated "architecture isn't just about making buildings, it's defining the aesthetic for the moment…and when I say aesthetic I mean a shared cultural value about living, form, design, materials…"
If you'd like to hear more, the complete Urgency event is available as a three-part video podcast at CCA Podcasts, our dedicated page on iTunes. This is the second annual presentation of Urgency, in which major international architects are invited to present issues of vital importance in contemporary practice, following the 2007 discussion with Rem Koolhaas and Peter Eisenman.
Alexandra McIntosh
Editor, CCA Website
Photo by Michel Boulet © Canadian Centre for Architecture.