Some Ideas on Living in Montréal- Program for Students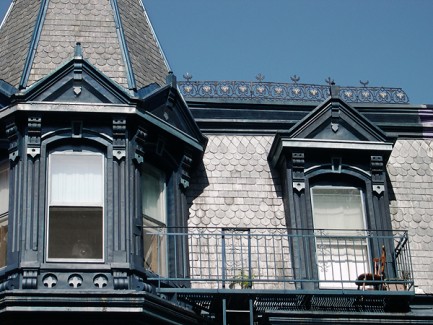 Being nested in the city, intimacy, public and private, interstitial spaces, neighbours, light, nature, openings, doors, sidewalks, thresholds, past and present, materials, street, culture, city, architect…
These are some of the words and ideas brought up in the first part of the Some Ideas on Living in Montréal program for college and university students. Integrating these words during a tour of the exhibition, students discover living spaces conceived by architects in London and Tokyo. They then leave the CCA to explore five contemporary urban houses, ingeniously designed in tight urban lots in the Plateau Mont-Royal neighbourhood of Montréal. The words and ideas remain the same, but the city is changed - it is their city.
The houses presented during the walk include Maison Coloniale (Jacques Rousseau, architect); À l'ombre de Paris, (YH2, architects); Twin House, (atelier BUILD, architects); Box House, (atelier BUILD, architects); and Pavot Rouge, (YH2, architects).
Before launching the program, the CCA's Educational Services team embarked on a walking tour of the Plateau Mont-Royal. Beginning tomorrow, we'll be presenting some "field notes" on the tour based on first impressions, and we encourage you to do the same.
If you took part in the program, post your own impressions and/or images of the tour on this website. Or if you simply have some ideas to share on the neighbourhood, we'd love to see them too.
Photo by Anne-Claire Richard © Canadian Centre for Architecture.